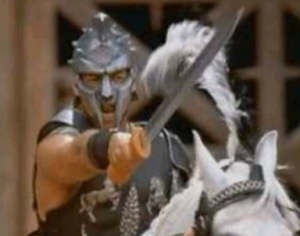 A Gladiator Approach To Strength…
by: Brandon Richey–Get Free Updates And Training Guides Here
A Gladiator Approach To Strength…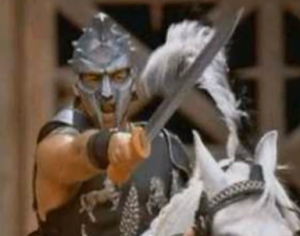 Today I wanted to us to examine the raw side of strength. You see the truth is that true strength has multiple faces. The strength of one's body only comes from the strength of one's mind and spirit. This is what I want to take a look at in today's post. 
Gladiator Strength…
If we look back on history true feats of strength have been displayed by many different people and I'm not just talking about the feats of strength performed by history's beloved strongmen either. People display strength everyday when it comes to building families, running businesses, building communities, and fighting for freedom. Others fight disease, disabilities, financial misfortune, and injury. I just wanted to point out that strength always goes beyond one's ability to just build muscles. 
However if you want to build muscles this is a great place to start!
The spirit of the individual is what I like to refer to as a sort of Gladiator Strength. The truth is that a measure of one's strength can not be judged by a single characteristic. However if we are judging one's physical strength we are also placing judgement on that individual's mental fortitude as well, because the 2 can't be mutually exclusive, at least as it pertains to the purpose of building physical strength. 
You see without the mind and the spirit strength ceases to exist. Throughout history man has had to display strength in order to meet the most important need of all; the need for survival. If we use the Gladiators as an example they weren't thrown into the coliseum to compete for the fun of competition. Well maybe they were for the fans in the stands, but this certainly wasn't the case for the competitors themselves! 
No, Gladiators had to survive. They had to be strong in mind and strong in body, and as far as I know they really didn't have a choice. You see the true purpose of strength (mental strength, physical strength, spiritual strength) at its core is purely for survival. In this day and age many people tend to forget that very important detail. 
Start challenging yourself here!
If you think about it man is always fighting for survival. Everyday man fights to earn a living, he fights for his freedom, he fights for his rights, and to keep those that have great influence from having total influence. It's a constant challenge and where one may have strength in one area another may display greater strength in another area. 
This struggle and challenge that we call life is simply a display of strength for everyone that is involved. The thing is that you can choose to build and display your own strength, or you can choose to be a victim. The latter is what too many are taught in this day and age, particularly in schools and universities. This attitude of being a "victim" is not what I would classify or label as a Gladiator Approach To Strength. 
Strength is not easy, but this may be the closest thing to it! 
To display your strength make sure you go out everyday and challenge yourself. Challenge yourself mentally and physically a little bit, or a lot. If life is giving you plenty then grow your strength by continuing to hit it head on. Build a strong body, a strong mind, and a strong spirit. Remember that most anyone can train hard, but only the best train smart my friend. 
Related Articles: 
The Butterfly…How Strength Is A Struggle!
Willing The Human Psyche: An Exploration Into Overcoming Adversity…
A Gladiator Approach To Strength…