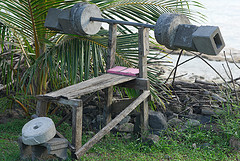 Gym Or No Gym…Functional Fitness Is A Solution For Weakness.
by: Brandon Richey
Gym Or No Gym…Functional Fitness Is A Solution For Weakness
So today the keyword or word phrase is Functional Fitness. So what is functional fitness or functional training?  Well even though this phrase gets thrown around in the fitness community more these days than Kim Kardashian's name does on the latest headlines of entertainment weekly the fact still remains that some so-called professionals miss the mark on it's meaning. By definition functional training involves training that mimics the demands of a given physical activity or individual need. This is where most folks don't realize that even though there may be a lack of resources it doesn't mean that it should be an excuse not to train.
The Strongman Approach! 
The great thing about functional fitness and being practical with your training is that you can utilize most any tool you have available to you. You can transform yourself and obtain functional fitness by lifting stuff that is probably sitting right in your garage or basement. So you are probably thinking Brandon how in the world do I train with stuff in my garage?
If you're looking to start in your garage or basement this is a great beginning! 
Well, it's simple because all you have to is do find something and use it the way it's meant to be used or just simply lift it, period. For instance, you can start with a wheelbarrow. That's right, just grab your good 'ole wheelbarrow, throw some stuff in it, and roll that sucker straight up a hill. If you do this enough I guarantee you'll either break a sweat or get ton of yard work done. Either way you'll benefit. Hell if we're talking about your garage you may even be able to use your car…(see below)
That is obviously one hell of an option, but I wouldn't exactly recommend this unless you are a true strongman professional. Even still if you have a flat driveway you can still throw your Ford Bronco in neutral, stick your neighbor or friend in the driver's seat, and get behind that bad boy to push it around. Strongmen implement this form of functional training all the time and they didn't need a super gym to get it done. It's all about being able to utilize the functional qualities of various tools that you have available to you along with the movements to utilize them in practical ways. The P.P.T. rule is also great option for amping up the intensity of your strength training program and it can be applied by using that truck or Bronco in your yard just the same.
Taming the beast is also a great way to wake up your functional strength development!
Now don't get me wrong gyms and equipment are great, but more and more options of functional fitness are proving to be the breeding grounds for building champion athletes and super fit individuals. Now without sounding like the same ole
Captain Obvious
the act of pushing a car or truck or flipping giant tractor tires has shown to significantly tax the body by increasing the HR (heart rate) to near maximal levels while also increasing blood lactate levels to super high levels. In other words it's hard as hell, but the more you do it the more the body will adapt to the point that it prolongs fatigue enabling the participant to do more work! Now this has my attention.
Functional Fitness Equipment…
Functional fitness or functional training as I have defined can be obtained with just about anything as long as you are providing the practical movements for the training to be effective. It doesn't have to be complicated or over the top. You can work with the tools you have available to you or  like me you can also work with the familiar gym piece such as the good ole kettlebells. The tools of the gym can be used for functional training as well. Train your grip strength and core strength with snatches or you can get a couple of heavy bells to tote from one side of your property to the other. A good farmer's walk will give you a crushing grip to squeeze the piss out of most anything.
Here's some bells you can use to get your program started out on the right track!
I dive into how you can formulate this in greater detail from your own garage or basement through my Brandon Richey's Unconventional Conventional Method Of Strength ebook as well. The value of what you can do to foster athletic development while building on the characteristics of strength comes from having a knowledge of what can benefit strength gains and the execution of movement, not from a bunch of fancy bells and whistles. Functional element of a strength program provides a base for us to incorporate more "optimal" movement along with the benefit of other factors such as hand eye coordination, foot eye coordination, and stability.
All in all, if you want to throw this phrase around (functional training or functional fitness) I thought I would help you with the understanding of what it was all about. In short it's about being practical and innovative. You have the tools at your disposal you just may or may not have known that you did.
If you didn't know or weren't aware of what you had available to you for the purpose of functional fitness (functional training) then I hope this was an eye opener. If you did and just maybe needed some ideas then again I hope this was an eye opener! The bottom line is that you can get fit and strong by doing more than one thing. If you are looking for more super cool ideas such as this then I want to invite you to join my emailing list right here for FREE. Upon joining you will automatically hit SUPER COOL status, at least in my book. 😉 You'll also get a lot of cool stuff for joining. Remember that most anyone can train hard, but only the best train smart my friend.
Related Articles: 
Strength Training For Life…No Room For Crutches Here!
Stability vs. Isolation In Strength Training Exercises…
Hulk Smashing Some Misconceptions On Strength Training For Women…
5 Ways To Turn Up Your Strength Training Program To Awesomeness Level!
10 Benefits Of Your In Home Training…
Gym Or No Gym…Functional Fitness Is A Solution For Weakness