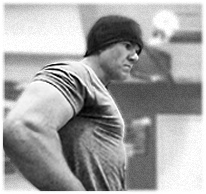 Five Steps to Take in Order to Guarantee Weight-Loss!
I have included in this article 5 steps that you can take in order to guarantee your success in losing weight. If you are not accustomed to being active and living a healthy lifestyle then this article should be very valuable to you.
Step 1: Get off the couch: If you want to start losing weight you must become physically active. With this particular step don't worry about workout structure and equipment just get up and move around. Walk around your living room, around your house, or around the block if you can. This is much more productive than sitting on the couch doing nothing drowning in sea of cheetos.
Step 2: Trade those cheetos for an apple: Start making better nutritional choices. Put down the bag of cheetos and eat an apple instead. Instead of polishing off that bottle of coke drink a tall glass of ice water. Simple choices like this will drastically improve your weight-loss progress. To lose the fat you must eat healthier.
Step 3: Pick up something and move it: Once you get into the habit of actually moving around then you can start implementing very basic forms of resistance training. An easy way to start is to throw yourself into doing something productive such as yard or house work. Very basic methods of strength training can be accomplished by moving a wheel barrel or carrying bags of fertilizer across the yard. It doesn't have to be fancy to be effective.
Step 4: Join a fitness group: Studies have shown that people enjoy participating in group activities in a lot of cases, especially when it comes to exercise. If you are sweating and in pain next to a friend that is going through the same thing you are less likely to give up. Find a friend or friends to join in some sort of physical activity.
Step 5: Make progress: In order to be successful in any weight-loss, fat-loss, or exercise program you must grow and learn more effective methods to continue making progress. Don't just keep doing the same things. Remember that once you have made the decision to train your body with a purpose then you must have a purpose! Don't just go through the motions get better. Whether you are working on your cardiovascular training, strength, or overall fitness you only get out of it what you put into it. That's life my friends!