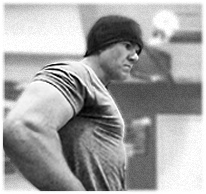 Weight Loss Efficiency – 2 Drills to Eliminate the Pounds!
If I know one thing that is always consistent with obtaining optimal fitness it is that you have to have a program that is efficient. To be successful in any weight-loss or fat-loss campaign you have to have a plan and know how to be efficient in executing that plan to achieve your goals. Working out should be about a lot more than just you going through the motions. Allow yourself a minute to read about the following 2 drills that you can implement to help you to eliminate those unwanted pounds.
1. The Kettlebell Swing: This double-arm kettlebell swing is the base lift to execute in kettlebell training. To do this drill you need to make sure that you have a sufficient amount of flat open space to execute this drill. Begin by straddling the bell between your feet. Perform a proper squat and pick up the bell with arms. Make sure that you fully straighten both your arms and body. You should allow the bell to hang right between your legs at this point.
From here you will perform a hip snap motion by executing a quarter squat flexing at your knees and hips. When you flex the knees and hips quickly extend and snap your hips and knees forward as you straighten your body. Continue performing this motion by flexing and extending moving your hips back and forth in a constant smooth motion. As you are doing this allow the bell to build momentum and let it swing between your legs and arc up to your chest level. After executing a couple of hundred of these you will certainly kick your fitness into high gear!
2. Squat Jumps: To execute this drill you will also need a sufficient amount of open flat space to execute the drill. From here you need to make sure that your feet are about shoulder width distance apart in length. Perform a deep squat flexing your hips and knees in a counter-movement motion before blasting your body vertically off of the ground like a rocket. As you perform this counter-movement also make sure that your arms swing back with your hips. This gives you momentum before executing the jump phase of the drill. From here quickly extend your hips and knees as fast as you flexed them and perform the jump phase of the drill! This will help you to eliminate the pounds.