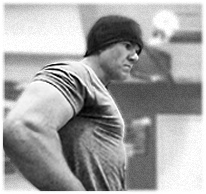 Fat Burn With an Iron Ball!
If you are looking for some real results in your personal fitness program then look no further. I want to tell you that if you are reading this and this is the first time that you have really read the facts on kettlebells, then you might be changing your personal workout program for good. Kettlebells are just about one of the most efficient ways for you to train your body!
I have used this awesome tool to train many elite and amateur athletes, as well as, regular hardcore fitness enthusiast who have gained monumental results from utilizing this device. If you want to step up your program then I suggest you utilize the resources of my free accessible articles in order to apply the knowledge toward training with this ancient training tool to take your personal program to all new heights! Training with kettlebells will help you to achieve optimal cardiovascular conditioning, strength, and total-body performance. By implementing one of the base lifts with the bell known as the "swing" you are able to integrate over hundreds of muscles at once just by doing a single movement. As a matter of fact, if you wanted to you could structure an entire strength and conditioning program around a couple of lifts with this versatile device. You need to take the time to invest in educating yourself on training with this tool of superior fitness construction!
Hopefully you will be moved to learn more about how to include this device into your personal program. Take the time to learn more about this and, as a professional, I promise that you won't be disappointed!