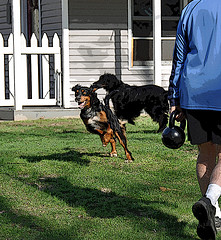 Training With Kettlebells – The Benefits of This Ancient, But Hugely Dynamic Method of Training!
Being a strength and conditioning specialist and having years of experience with training athletes and hardcore fitness enthusiast I have a real understanding of how the body works. You see your body is simply a machine that consists of levers and pulleys that produce a series of actions that we define as human movement. I like to use the term "Human Dynamic" to describe this art of movement.
In order for you to get a grasp of what I am talking about as far as the human dynamic you have to train with a kettlebell. This is an ancient form of training that has always been years ahead of it's own time! In order to be truly fit you must try to optimally improve on many characteristics that make up what we consider as overall fitness. Traits such as flexibility, strength, cardiovascular conditioning, resiliency, stamina, and athletic performance all encompass this level of human ability we call fitness. The special design of the bell and the learned technique of such lifts like the swing, the overhead snatch, and the one-arm turkish getup all create a series of natural and basic movements that the human body is meant to perform. The bell makes these movements even more beneficial because they are performed with the added resistance of the kettlebell.
In order to improve your fitness you have to move your body. With the kettlebell there is no better way to move and, at the same time, apply a weighted resistance. The benefits of using this device are off the chart! If you haven't started then you need to start your kettlebell training now!