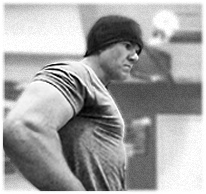 A Vicious Kettlebell Circuit!
I think we both can agree that kettlebell training is a hard-hitting choice when it comes to getting a good workout. Well, training in the form of a circuit with this kettlebell workout is no different.
The following kettlebell workout is what I like to refer to as the vicious circuit. It involves a combination and variation of swings, cleans, and snatches to get your blood pumping. To begin, you will need to have a pair of moderately heavy bells of equal weight. Every exercise will include 5 repetitions. Start by performing a duel clean bringing the bells to your chest. Bring the bells from the ground to your chest for each repetition. When you finish your first 5 reps simply transition into doing push-up rows off of the two bells.
This is where you perform a push-up off of the bells and row one to your ribcage then perform a another push-up to row the other side to your ribcage. Complete 5 of these on each side. Next, immediately pop-up to your feet to perform 5 duel bell swings. After your fifth swing simply transition from the sixth swing into a series of 5 duel bell overhead snatches! When you complete the snatches you have concluded the first round of the vicious circuit. Try to complete 3 full rounds of this circuit and strictly manage your rest time between cycles.
If you include this little series into your personal program you will quickly see the pounds melt away! Weight-loss and getting fit will never come so fast! Train hard and give it a try my friends.