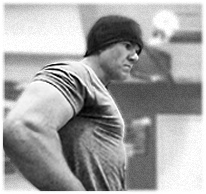 Pull-Up Supremacy – The 100 Pull-Ups Workout!
First of all the proof is in the pudding! If you are engaging in a 100 Pull-Ups workout you are a strong individual. So how does this workout actually work? Well to break it down the goal is to execute a 100 pull-ups in no more than 10 sets! So this means you are hitting 10 reps per set minimum. Now you gotta agree with me on this one. That is one hard hitting workout! Now there is no doubt that this workout is intense, however I am also including a variation of this workout so it can be applied to those that are at a more beginner or moderate level of strength.
To begin, if you want to be able to attempt the 100 pull-ups workout then you must be really good at doing pull-ups. You will need a pull-up bar, of course, and you will want to execute 10 pull-ups minimum per set for 10 sets! This is going to help you develop superior pulling power, lat-strength, and core strength. This workout involves some serious arm and lat tension. You will propel your strength to all new heights.
If you are unable to hit 10 pull-ups for 10 sets then you can modify your 100 pull-ups workout by transitioning to do horizontal pull-ups on a squat bar and rack, or smith machine. By doing this you will be able to assist yourself in your pulling by pushing through your heels on the floor and engaging your glutes and hamstrings. This will help you to pull your body towards the bar. You can make the choice to do the modified 100 pull-ups workout entirely in the horizontal position or you can interchange the pull-ups between both styles. Either way your lats and your strength will grow like crazy by doing these!