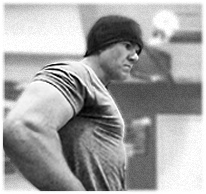 Turn Your Body Into a Powerhouse With Kettlebells!
The fact is that if you are looking to build some rock hard muscle then you need to incorporate the iron kettlebell into your workout program. The truth is that kettlebells can be used for both strength and endurance. The beauty of training with the iron bell is that either way you will build lean muscle mass.
By incorporating the kettlebell into your personal strength and fitness program you teach your body to achieve both strength and endurance through very dynamic resisted movement. By executing one of the base lifts with the kettlebell known as the double-arm swing you incorporate the use of hundreds of muscles in order to do the lift. This lift can also be varied in a variety of ways to make it even more intense. The movements involved in training with the kettlebell can also be structured to flow and transition from one lift to the next.
For instance, if you are executing a series of double-arm swings then it is very simple to transition right into doing a series of single-arm swings or even overhead snatches. By doing this you are now executing a highly effective and intense kettlebell circuit. This is how you can achieve a seriously well built body packed with hard muscle!
Turn your body into a powerhouse. I promise that if you get used to handling the weighted iron bell through the various series of movements and lifts that your body will make a transformation that you never thought would be possible. Stop wasting time and give it a try!