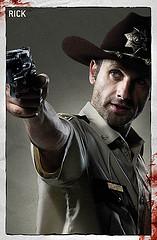 The Walking Dead And Burpees?
So if you are fan of the mega hit TV show The Walking Dead then you know the most recent season just ended the week before last. It was good, but boy I'm going to miss some people. Yeah characters tend to die off in a TV show named The Walking Dead.  If you haven't seen the finale then I don't want to ruin the outcome for you just in case your Netflix hasn't hit your mailbox yet, or if you haven't gotten around to firing up that On Demand service. Either way The Walking Dead and burpees are the topic for the day. Ok, more burpees, but talking zombies is always a killer topic too. Pun intended. 😉
Doing A Lot With A Little…
Ok, the survivors in a post apocalyptic world have to be very resourceful for obvious reasons. I mean when you're having to fight off the living dead and compete with the usual living for left over resources then you've got to be smart about obtaining those resources and just surviving in general. It's a constant battle. Well, being able to do a lot with a little here in the real world these days is also a necessity. I mean with an ongoing recession that seems to be the new way of life people have to do more with less on a regular basis anyway.
So what about doing a lot with a little in regards to obtaining strength, speed, conditioning, and overall core strength? Well there is a way to obtain this without any equipment or having to worry about battling the living here in the real world on a treacherous drive to the gym. All you got to do is find some open floor space, yard space, garage space, basement space, or any other space you can think up and start hammering out a wonderful post apocalyptic worthy calisthenic drill known as the burpee! By the way it was a hot freaking day when I did this video and I felt like The Walking Dead after filming all day!
It's obvious to see just how resourceful this particular exercise can be. I mean you can do it anywhere at anytime. So going back to my original point of doing a lot with a little. This is a prime example of accomplishing just that. I mean if you are looking for a way to get the most BANG out of your strength training buck then you can't beat the availability of some flat ground and good old fashioned gravity to hammer out some burpees.
These are great for overall strength, mobility, core strength, power production, and overall cardiovascular conditioning. If you don't believe me then just hammer out 15 to 20 of these without stopping. These are also great for getting you physically prepared to slay some zombies, just in case! I mean you never know when you might have to slay some zombies with a samurai sword, right? (Warning: Zombie blood and guts are in this clip)
I mean the setting for this does take place here in Georgia. A guy can never be too careful. If you are looking for some ways to incorporate some burpees of your own into a resourceful strength and conditioning program then make sure you get a copy of my Brandon Richey's Better Than Steroids ebook here too.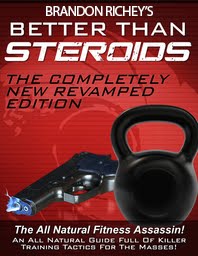 Also don't forget that if you happen to enjoy using the Kindle readers or Kindle apps in the somewhat stable society we currently live in then make sure to get a copy of Brandon Richey's Better Than Steroids right here on Amazon. Remember that most anyone can train hard, but only the best train smart.