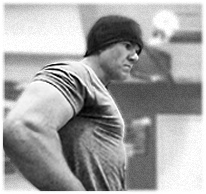 The Kettlebell Suitcase Deadlift – A Real Butt and Thigh Blaster!
If you want to develop a truly hard and fit body you have to incorporate whole-body movements in order to increase your level of perceived exertion. Any successful weight-loss and fat-loss campaign has to be structured and planned in order to make good sense! Progression should ALWAYS be a priority, because without progression how do you know if you are getting better. A simple way to implement this "whole body" idea is by implementing lifts and exercises that you can do on your own two feet. Besides, we function on our feet everyday, so why should we train any different?
A good example of a lift or exercise that you can implement for great development in your hips and glutes is the kettlebell suitcase deadlift. This is a highly effective lift that can be done anywhere. All you need is a single kettlebell. A pair of bells would be great, but are by no means necessary. To execute the lift simply stand with your feet shoulder width apart. Place the bell beside one of your feet (on the outside of your leg). From here simply perform a proper squat and reach down to pick up the kettlebell the way you would a suitcase. Make sure that you fight against the sensation to lean to the weighted side of your body if you are only using a single bell.
This particular strength training movement can also be performed with 2 bells. The lift is performed in the same exact way with 2 bells as it would be with one. The only difference is that doing it with 2 bells gives you more balance in the lift itself. No worries here though because what you don't have to worry so much in stability by performing the lift with 2 bells you make up for with intensity for the additional weight that is having to be lifted. Permit yourself time to learn this great technique for you to include into your own personal program. Remember that this kettlebell and strength training drill is much better to perform by you having to execute the lift on your own 2 feet!