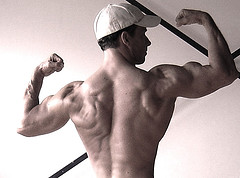 The Fat-Burner – 2 Simple Kettlebell Drills to Transform Your Body Into a Fat-Burning Oven!
I must say that if you are wanting to transform your body into a fat-burning oven then you are in the right place. To do this you must provide yourself with a sound training plan. Take a second to read the following 2 kettlebell drills that you can use to give your metabolism a serious bump to start burning off the fat!
Kettlebell Farmer's Walk: This drill requires the use of a couple of kettlebells and an open flat space. Mark off a distance of about 30 yards and then you are set. Pick up your kettlebells, hold them by your side, and begin walking. That's simple enough right? Well it's simple enough to understand, but actually doing it is a lot more challenging than you might think! Just make sure that you use a pair of moderately heavy bells for the drill. To promote substantial fat-loss you must intensify the drill. If heavier bells are unavailable then be strict in manipulating the number of walks and make sure that you don't give yourself too much rest time between each 30 yard walk!
Duel Overhead Kettlebell Walks: This drill is even more intense than the first. This drill is set up the same exact way as the farmer's walk. This is one kettlebell training drill that is sure to help you lose the weight! To begin, simply clean and press both bells up above your head and once again walk the designated 30 yard distance to the other side. Make sure that your elbows are locked out and that your shoulders are sucked into the sockets. This ensures that you are able to sustain the overhead load throughout the drill. Attempt to perform 4 good 30 yard walks with a moderately heavy set of kettlebells for the first attempt. Give yourself no more than about 45 seconds rest between each gruelling walk. Give it a try and watch the fat-loss happen right before your eyes!