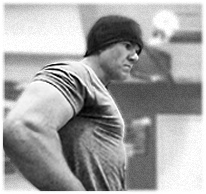 So You Want To Train With Me? Brandon Richey's Kettlebell And Fitness Program!
Come And Train With Me Today!
Here Is What To Expect!
If you want to train with me then be prepared to get the most hard hitting, best, safest, and fully functional workout of your life. My program will help you to incinerate body fat, build a lean strong body, and get you not only looking like you are in the best shape of your life, but having you feel it too! Most of my client base consists of small groups and couples, but I do offer 1 on 1 for those folks that are truly serious and committed to getting in shape.
My Kettlebell Strength And Fitness Program!
My training program is designed to teach you how to properly move and strengthen your body irregardless of your age, gender, or ability. You will absolutely learn how to utilize your own body resistance, as well as, other forms of resistance such as dumbells, barbells, and of course the ancient
kettlebell
! My program is designed to teach you how to implement the proper techniques and strategies associated with proper functional movement in order to help you minimize the onset of physical ailments and avoid the possibility of chronic long term injury. You will flat out develop a strong, powerful, good looking body during this process.
Where Do I Train You?
My business is set up for me to come to the client so I can come to you based on whether or not I am running a clinic, speaking engagement, boot camp, or training you directly! My business is set up as an on-site or in home training service. Don't worry if you lack equipment, because it is not necessary. Equipment is simply an accessory for me not a necessity. I have my own bells if you don't have your own
kettlebells
, and I also have other tools to help with the workout.
What Areas Do I Cover And Train In Regularly?
I offer my personal training, kettlebell training, and strength and conditioning services throughout the Metro-Atlanta area. I train and cover Buford, Johns Creek, Alpharetta, Suwanee, Sugar Hill, Duluth, and other surrounding locations within this coverage area! I do offer both private and CEU provided kettlebell clinics all over upon request and scheduling. I also work with all levels of athletic programs for consulting and program design upon scheduling and request.
What Are My Rates?
First of all my first meeting with you is complimentary. My rates are determined by the package that the consumer wants to commit to, as well as, the length of the commitment. If you are doing 1 on 1 or semi-private training (1 to 3 persons) then the rate will range from $80-$120 per session and there is always a minimum 10 session commitment. This is the average, but rates can go lower depending on the number of session commitment and location of the client.
With large groups (4-10 persons) the rates range out between $30 and $35 per person per session. So groups of 4 would be between $120-$140 per session for a 10 session commitment. Once again under special circumstances (logistics, level of commitment, etc.) these rates can go lower! The programs are simple. No matter the numbers I just have to pay for my hour of work. This allows you (the consumer) to dictate the rates, type of training groups, and size of training groups! The bigger the numbers the better. It is awesome to have teammates involved in this process so that you have someone to sweat and bleed with. That was a joke, blood creates too much of a mess! Anyways, another great way for doing this is looking at a corporate fitness program with me. This is done the same way and better health and fitness promotes a better work environment, healthier employees, and less absences.
Schedule Your Complimentary Orientation Today!
Schedule your appointment and complimentary orientation today by contacting me at:
Phone: (706) 491-4259
Email: brndnrichey@yahoo.com
For additional information on my other products and services visit my site at:
Remember if you want to achieve body of a Greek God you have got to start training smart!