The Sith Workout For MMA Strength And Conditioning
For today's post I wanted to hand pick an article directly from the the archives. Today's article is on The Sith Workout and I thought this would be a good pick since I wrote this article about three years ago!
I believe you will find it interesting as it's just a workout, but it includes the skeleton of some of my programming that involves a complete combination of athletic performance conditioning and strength movements. To learn more about these movements continue reading and take advantage of joining my email list, or getting on my 90 day program here at the end! Enjoy…
Sometimes you just have to put your finger on the valve and let the pressure off. One way to do this effectively and in a positive manner is by taking your frustrations out on the iron in the gym. Here I've included a day's training to incorporate a dual balance of both strength movements and athletic conditioning movements to enhance your performance and fitness for MMA, sport, and life! Make time for the Sith Workout to include into your day's training.
The Sith Workout
The Sith Workout is great for helping you to build strength and athleticism. Keep in mind that this pre-programmed workout can be scaled to suit your individual ability and fitness level. You can scale the reps, intensity (weight), and volume so that you get the most out of the training. Furthermore, you may not be familiar with the terminology associated with all of these drills.
To resolve this I would encourage you to scroll down to the bottom to reference my 90 Day training program where you can gain access to all of these drills and more.
Warm Up:
Rolling "V" Stretch: 5
A Skips: 15 R&L Legs
B Skips: 15 R&L Legs
Kettlebell Saddle Groin Stretch: 2 minutes
Shoulder Warm Up: Palms To Face; Palms To Head–15 R&L Arms
Conditioning For Optimal Cardio, Coordination, And Movement (Note: For greater intensity the following drills can be performed with a weighted vest)…Recommended Equipment: Jump Rope, Agility Ladder, Cones, Weighted Vest
Jump Rope Double Feet Hops: 100
Agility Ladder Rear Crossover Shuffle: 5
Agility Ladder Hip Twists (Lumbar Twists): 5
3 Step Acceleration/Deceleration Cone Drills–3 Sets Of 8 Cones (Note: Advancing the 8 cones in both directions, Right to Left, counts as a single repetition. Perform 3 strides/backpedals to advance to and from each cone.)
Agility Cone Lateral Cone Shuffle: 3 Sets Of 8 Cones. Again use 8 cones and shuffle both directions from left to right towards the cones and from right to left towards cones. Once each direction of all 8 cones has been covered you've completed a single repetition.
Recommended Equipment: Barbell, Jam Ball, Kettlebell
Barbell Front Squats: Warm Up 1×5 then 5×5
Barbell Deadlift: 3×4
Superset Slam/Jam Ball Power Slams: 3×8
Prone Dumbbell/Kettlebell Drags: 3×5 (R&L sides)
Superset With Double Arm Farmer's Walks: 3–40 pace carries (Note: Perform carries with a weight in each hand.)
4-Point Hip Stretch
Finished.
The Sith Workout: The Takeaway 
Remember to scale the reps for your current fitness and ability level. Also focus on the quality and execution of the movement. Additionally gauge your recovery by allowing yourself just enough time so that you can perform a subsequent set with the same effort and ability as a previous set.
Are you incorporating any dynamic strength drills like you see here in the Sith Workout? 
Are you performing any plyometric or medicine ball drills? 
Post up in the comments here below and share! 
Also if you want to learn how to tie these together then make sure you check out my brand new 90 Day MMA Strength And Conditioning Program right here below! I guarantee it'll get you into the best shape of your life, or I'll give you your money back no questions asked.
CLICK HERE TO ORDER MY 90 DAY MMA STRENGTH AND CONDITIONING PROGRAM!!!
It's changing lives already!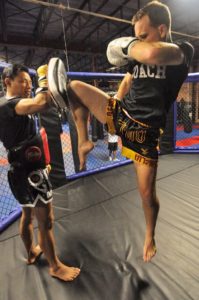 Related Articles:
Jump Rope: The Most Underrated Conditioning Exercise
How To Enhance Your Fitness And Physical Work Capacity
3 Top Conditioning And HIIT Workouts For MMA And Combat Fitness
4 Point Hip Stretch Series: Squat Prep Your Hips
5 Unique Strength Drills To Enhance MMA Performance And Serious Fitness
---
Are you having trouble staying on top of your nutrition and all the supplements?
If so then get on the
Essential Nutrition
Your health is worth more than a bulk multivitamin pill. You deserve Reliv Now. Made with LunaRich, Reliv's epigenetic superfood, and loaded with vitamins, minerals and super-powered antioxidants, Reliv Now is built on the latest findings in nutrition science.
Its uniquely effective formula delivers a balanced array of the most advanced ingredients to give your body what it needs to thrive. Why settle for 'fine' when you can feel 'great!'? Get your health up to speed with Reliv Now.
Cutting-Edge Science: Study shows potential of Reliv Now® + LunaRich X™ to support weight loss, heart health and metabolic wellness.
Are you looking to enhance your performance, recovery, and muscle mass development? 
If so then get on the
Performance Nutrition
Most of us don't come close to consuming the nutrients we need to keep our bodies performing at their peak. ProVantage meets the nutritional needs of physically active people and athletes to improve performance, endurance, recovery, and repair.
Powered by LunaRich, Reliv's epigenetic superfood, this patented formula delivers 13 grams of muscle-building soy protein, plus other advanced ingredients like Tonalin®, MCTs, Creatine, CoQ10 and supercharged amino acids. ProVantage marks a major advancement in the science of sports nutrition.
It's the edge you've been looking for.
Also for your strength training needs…
Get ONNIT kettlebells and weighted vest here (Click On Image)