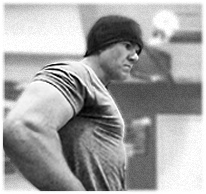 Kettlebell Fat-Blaster – 2 Exercises For Women to Execute With Kettlebells to Blast Away the Fat!
Ladies you know by now that kettlebells are a serious workout. I am going to include 2 more excellent drills to help you to further boost your metabolism and get it burning like a jet engine! Take the time to read and implement the following drills into your own program and your fat-loss and weight-loss campaign will continue to be a success!
1. Kettlebell Clean and Squat: For this drill you certainly have to have a proper knowledge of how to clean the kettlebell to your chest. To do this simply stand with your feet shoulder width apart with the kettlebell directly between your feet. For the purpose of this article I am referring to cleaning and squatting a single bell. Next, squat down and grab the bell with one hand. Stand up and simultaneously pull the weight up and perform a smooth quick corkscrew motion with your arm allowing the bell to rotate around the outside of your wrist. As you do this you should finish with your arm resting up against your body just off-center of the midline of your body. Now you have lifted the bell from the ground to your chest in one clean motion! From here simply execute a proper squat or series of squats.
2. Staggered Kettlebell Push-Ups: To begin this drill you will simply just need a single kettlebell. Get into an upright push-up position with one hand on the ground and one hand on the kettlebell. You should be in a normal push-up position here with the height of your hands obviously being staggered with the kettlebell. Next, just execute a series of about 10 push-ups on each side. If you don't think this is difficult then just try it and you'll see how much this simple drill will help you to get in shape. Take your kettlebell training serious ladies. Keep pushing and you will see your results continue to grow!