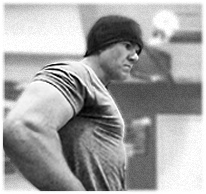 Fitness Training – The Gruesome 10 – Time Efficient Training For the Busy Mom and Dad
I have talked to many moms and dads that spend the better part of their day working, picking up kids from school, running errands, preparing meals, and doing yard work. This sounds like the life of a typical functioning family that generally takes on the attitude that working out and being fit is an impossibility. I'm here to put that mindset to rest!
I want to talk about scheduling a workout in what I like to call the "gruesome 10!" Most people live a busy lifestyle of work, kids, chores, and fast-paced weekends. Working out is not an option to these moms and dads because they don't have the time to get to a gym or to buy equipment to stock up in the garage. Still there is no reason why a fit lifestyle couldn't be accomplished in their hectic schedules. I would like to introduce the "gruesome 10" philosophy. The "10" stands for 10 minutes and the "gruesome" stands for miserable, heart pounding, shaky arms, and shaky legs due to all out shock! The entire workout is only 10 minutes and the results are tremendous.
You are probably wondering "how does this work?" The gruesome 10 is a workout that needs to be completed when it needs to be completed! In other words, there is not a necessary schedule of a time and place, but only when there is 10 minutes of uninterrupted "go time" available. Keep the format simple, but continuous. The 10 can also mean the number of exercises and rep count. Combine 10 different body weight exercises into a giant circuit. Each exercise is 10 reps. You can go from 10 push-ups to 10 squats to 10 crunches and on and on. The key is to not stop until the 10 exercises are completed or your 10 minutes are up.
The objective here is to ramp up the intensity level. There is no equipment, no kids, no wife, no husband, instead there is just that high-paced 10 minutes of strength and conditioning!