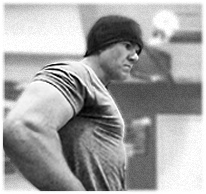 Find Something to Motivate You Towards Your Fitness and Strength Goals!
I have been training people from all walks of life for about 9 years now. There is one and only one consistent characteristic that holds firm with all of my most successful clients. The one constant variable that I am referring to is motivation! If you aren't intrinsically motivated then you will NOT succeed in anything. That's right, I said it!
In order for you to succeed in your personal fitness and strength program you have to find something that can keep you motivated. Even for those clients that I know that have been very successful and are intrinsically motivated they still have to find something to work towards to keep that inner fire burning. This is a great thing to do if you are starting back into a structured exercise program. Your strength and conditioning program should be catered for you to work towards a specific goal. Whether your goals include weight-loss, improving athletic performance, or just plane health improvement you need to specify what you want to improve on to give you a reason for your fitness campaign.
By now you may know that I am a huge proponent of kettlebells. I enjoy working with the ancient device because of many reasons. The main reason I started training with kettlebells was because I wanted to learn more about the uniqueness of it. It involves such a different dynamic than I ever experienced in training. Even with my years of experience training athletes and my own athletic background it excited me to learn about this ancient art form of fine-tuning the body! This was enough to keep me motivated.
Now my goals are even more specific. Like improving the total number of overhead snatches with a 24kg bell. This is a specific enough goal for me to stay motivated. Other things you may want to consider would be entering some form of competition or competitive event. These are all great options for you to stay the course throughout your personal strength and fitness adventure!