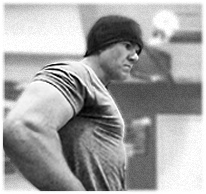 Body Explosion – 2 Exercise Drills That Will Blow Up Your Fitness!
Now I am here to tell you that if you are serious about blowing up your fitness with real results that you can be proud of then you need to have a good start. The key to true fitness and strength is intensity. The following 2 drills are a great combination of intense movements that will surely take your exercise program to new heights!
1. Full Range Kettlebell Swings: This is a more intense variation of the traditional double-arm kettlebell swings. For this drill you will begin by executing a proper squat to pick up the kettlebell. Your body should be fully erect and the bell should be hanging at your groin with you holding it with both hands. From here you will execute the proper hip snap motion thereby creating momentum for the bell to swing back and forth between your legs in an arc-type motion. As the bell builds momentum you want to create enough force to allow the bell to swing all the way up above your head! This is the full range portion of the swing.
2. The Full Range Kettlebell Swing & Burpee Combo: This drill is actually a combination of both the full range kettlebell swings and burpees. A burpee is basically a type of total-body calisthenic that is greatly used within the military as a conditioning drill. To execute the burpee you want to start with both feet about shoulder width distance apart. From here squat down and place your hands on the ground. From here you will want to kick your feet back and extend your body into an upright push-up position. Next, execute a normal push-up. Finally, after executing the push-up kick your feet back up underneath your torso and stand up back into the position at which you started. All of these movements combine to equate a single burpee! For a killer workout execute about 30 full range kettlebell swings and then immediately execute 30 burpees!