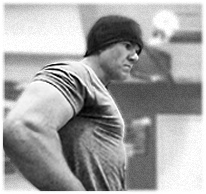 Women's Fitness – 2 Drills to Get You to a Greek Goddess Level of Fitness!
Women's fitness has always been a misguided field in my opinion. Women have traditionally thought that intense strength training was for "men" only. The fear of "bulky" muscles has always been a false fear that has held a lot of women back from gaining their fullest potential in a lot of cases. I am here to help you by allowing you to make progress and not set you back. A Greek Goddess level of fitness can only be achieved by training with aggression and intensity. However, the more you do so the quicker you will see your results. Here are 2 kettlebell drills that will help you to achieve lean muscle and a fit body you have always wanted.
1. Kettlebell Front Squats: For this particular drill you will need a pair of moderately heavy kettlebells of equal weight. Set the bells on the ground between your feet. Next, squat down an grab the bells to clean to your chest. Once the bells are properly racked in the clean position then you will perform the squat. The key is to keep the bells loaded in front of your body as you descend. Make sure that you don't lean forward as you lower yourself. To ensure a full range squat try to lower yourself enough so that your elbows touch the insides of your knees. These are great for building lean muscle and helping you to speed up your metabolism.
2. Kettlebell Front Squats To A Press: For this particular drill you will need the availability of the same pair of kettlebells as mentioned in the first drill. Perform the usual front squats, but this time at the top of the squat movement simply perform an overhead shoulder press. Make sure that you lock out both your shoulders and elbows. Perform 8 to 10 of these in continuous succession to start. It won't be long before your body reaches Greek Goddess level!