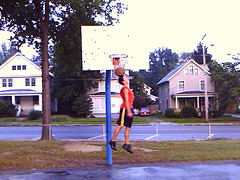 Vertical Explosion – 2 Exercises For You to Adopt to Add Significant Inches to Your Vertical!
In order to increase your vertical, truthfully there are several variables that have to be included into your training in order for this to occur. However, the following 2 drills are a great start for you to certainly add some inches to your vertical leap. Read about the following 2 drills and properly apply them to your personal strength and conditioning program.
1. Dumbell Squat Jumps: This is an excellent plyometric exercise for you to implement in order to gain tremendous core, leg, and hip explosion. All you need in order to do this drill is the proper flooring and a set of dumbells. I am going to assume you are an athlete and are in good standing athletic condition when I recommend the following exercise. You can start by using a set of dumbells ranging in weight from 15 lbs each up to 35 lbs. each depending on what level you think is appropriate for your ability. Start by standing with your feet about shoulder width distance apart holding the dumbells in each hand by your hips. From here execute a squat jump while keeping the dumbells by your side the entire time. Perform 10 to 15 reps in a row. Make sure the squat jumps are done in continuous succession. This is a tremendous drill for developing a superior vertical and overall athletic conditioning.
2. Keg Tosses: This is a page right out of the world's strongest man handbook! This is a drill that is wonderful for developing a superior core and explosive hip and upper-body power that can certainly add to the increase of your vertical leap. To execute this exercise you will need some wide open space (preferably with no one else around) and an empty beer keg. You have probably seen this particular drill performed by world strongmen on TV, but it has huge benefits. To begin, stand over the keg with the drum laying on it's side. From here rapidly squat and grab the ends of the drum. Next, explosively extend your body to throw the keg straight overhead. Now don't be stupid and try to catch it. Simply get out of the way of it and let it fall to the ground. As soon as it does, get into position to throw it again. By implementing such an entertaining drill you can add significant inches to your vertical jump. Both of these drills provide a great workout to improve vertical leap.