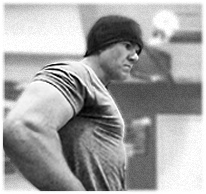 Upper-Body Power – 2 Exercises to Increase Upper-Body Explosive Power!
When I talk about developing upper-body explosive power I would do it much in the same way as I would with developing lower-body explosive power. The following exercises are two great practices to implement into your personal program to achieve maximum hand speed, pushing force, and core resiliency.
Exercise 1: (Medicine Ball Punch) This is a great drill to perform with a partner. Depending on your level of ability simply take a 15 to 25 lb soft medicine ball gripping the outer edges and execute an aggressive chest pass to your partner. You want to always absorb the ball with your arms outstretched into your chest when receiving it and always pass it from the chest when getting rid of it. Every pass should be caught and thrown in rapid succession between you and your partner for ultimate results.
Exercise 2: (Plyometric Push-Up) This is a tremendously intense drill for developing optimal fitness and a hard and fast reacting upper-body. To complete this drill you simply get into a normal upright push-up position. From here all you do is execute a normal push-up with one slight, but intense difference. When you are at the bottom of the push-up phase coming up you want to generate enough upward force to elevate your hands off of the ground. Your hands stay the same width apart throughout every repetition. Just make sure every rep is done in rapid succession with a full range of motion.
These drills should be practiced flawlessly. Make the most of your workouts and include these drills if you really want to take your program to the next level!