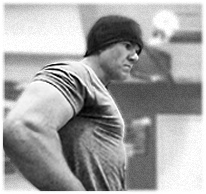 The Inexpensive, Yet Most Hard-Hitting Workout Device For Optimal Weight-Loss and Fat-Loss!
If you are looking for the single most hard-hitting and effective way to get your body into superior condition then I would like to introduce to you the kettlebell. As a professional trainer and strength and conditioning specialist I can tell you first hand that this is by far the most effective strength training device and the most effective strength training device that money can buy!
The kettlebell is an ancient tool that resembles a cannonball with a handle attached to it. Strongmen and athletes have used this tool for centuries to forge their bodies into chiseled rock hard mounds of lean muscle. Both men and women that train with kettlebells stand out in a crowd. When you see a kettlebell man or woman you immediately know that they are super fit and in extraordinary shape! Not only do you get the most bang for your buck with an investment in a kettlebell or several kettlebells, but you are also purchasing the most versatile strength and fitness tool on the market.
Nothing else is so effective in training the body for total fitness. Weight-loss, fat-loss, building lean muscle, and superior cardiovascular conditioning are just a few traits that you achieve from training with the iron ball. Kettlebells generally run a little over 2 dollars per pound where other standard weight equipment runs at about dollar per pound. Now before you frown at that price quote and calculate the cost of shipping and handling understand what you are paying for!
With kettlebells you can do more exercises anywhere at anytime! You can take the kettlebell or even a couple of bells with you anywhere you go. You can train in your living room, at the park, or you can haul that bad boy into the gym with you to supplement your other major lifts. After you are finished you can conveniently and secretly store it away anywhere in your house without sacrificing any space at all!
Does this sound better than purchasing an entire gym for your house? When you think about it you realize that it is certainly an inexpensive way to get fit! Stop wasting time and money and give it a try.