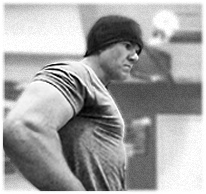 Power Breathing – A Technique to Immediately Improve Your Strength!
I have often been asked by people about the proper way to breathe when they lift weights. I say that they are concentrating on the breathing too much if they have to ask about it, unless they are lifting super heavy weights. The truth is that whenever you exert yourself with an external load the body naturally reacts in a number of different ways to support that weight. Muscles tense up and you generally hold your breath most of the time without really thinking about it.
This phenomenon of holding your breath when exerting yourself is known as power breathing or a more scientific term for it is the valsalva maneuver. Basically any kind of lifting or resistance form of exercise is known as anaerobic exercise which means without oxygen. Essentially when you naturally tension the body by it having to support an external load there is a natural reaction of sort of holding your breath in order to support the heavy load. Does this actually work? The answer is YES. You actually become stronger by implementing this technique during times of high exertion.
Now having said it works there is a certain way for this technique to be done to be more effective. First of all, if I am lifting a heavy weight I don't want to inhale to completely fill my lungs with oxygen like a hot air balloon. To do this the right way I need to take oxygen in and, at the same time, push some out by tightening my diaphragm. In other words, imagine how you would push air through your windpipe between your tongue and palette. It should almost make a "hissing" sound kind of like a snake. When you do this you will find that your abdomen will really tighten up. This abdominal tension is what gives you an amazing amount of support throughout your core and entire body thereby enabling you to support more weight!
The truth is that this technique is widely used among power lifters, olympic lifters, and all kinds of strongmen across the globe. You can use it too to boost your strength levels. Practice and you will see that it will work like magic!