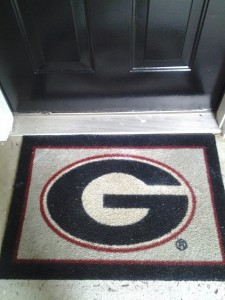 That University of Georgia welcoming mat you see in the picture there happens to be the one to the front door of my residence. Just think of it as being the "red carpet" for my guests if you will. 🙂 However in today's post the welcoming mat was of a different nature because this time I was the guest! Keep on reading to see where I went my friend.
Physical Work Capacity…
The premise of today's blogisode revolves around physical work capacity. If there is one thing I make sure to preach and to incorporate into the fabric of my strength and conditioning program for my students it is the element of physical work capacity. If you're an athlete your competition may beat you on technique or talent, but if I have anything to do with it they'll never beat you by outworking you my friend!
Ok, so back to the original point. Where did I go? Well I've got to thank my friends at My Mad Methods magazine for publishing my article on Physical Work Capacity! So I guess it wasn't me that went anywhere, but rather my content. 🙂 I've got to thank Mark De Grasse for having me over and allowing me to step aboard his ship to perform one of the usual rants that you guys here are so used to reading! 🙂 Anyways, make sure you take a minute and check it.
JUST CLICK HERE TO READ THE ARTICLE