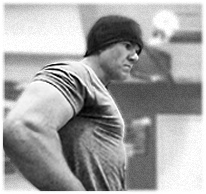 Ladies, if you are looking to lose the extra inches off of your waist and hips then you should know that this article is for you. Take a minute to read the following formula that I have put together to help you cut the inches off of your midsection as quickly as possible. I have used the following 2 exercises to get many of my clients into shape over the past several years!
Sandbag Throws: I have written a few articles on this particular unorthodox style of training. It is something that resembles construction work more than a workout. That doesn't matter though because this is highly effective. All you need to do is find a sandbag. You can get these in a variety of places. There are some types you can find at hardware stores, Home Depot, Lowes, and you can outright order them online specifically as workout devices. All you need to do is get into an open area to workout with the bag like your front or back yard. From here you just want to practice squatting down to pick up the bag to throw it. Throw it like a push-pass above your head and let it fall to the ground. Repeat this 15 to 20 times with a 25 to 35 lb bag! Don't worry about what the neighbors are thinking. After they see your results they'll soon want to join you.
Seated Reach Arounds: This is a rather simple looking exercise for the waist, but trust me looks can be deceiving. All you want to do is sit on the ground with your legs together and slightly bend at the knees. Lean back until you feel your abs tighten. From here simply hold your hands out in front of you with your arms bent. Your hands should stay at a parallel angle to each other and slowly rotate your trunk to one side and try to place both of your palms on the ground. Alternate sides attempting to execute up to 10 on each side. Your waistline will shrink away!
Use both of these drills in conjunction with one another to promote the weight-loss and fat-loss you are wanting so badly!