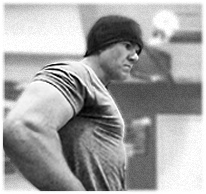 Cycling Circuit – A Superior Circuit For the Cyclist to Improve Every Level of Human Performance!
I have trained many athletes in the past and they all have the words "sports specific" embedded in their heads. This is becoming more of a mindset of the past. The truth is that ANY successful athlete must try to optimize every level or aspect of the human performance spectrum like strength, power, flexibility, endurance, resiliency, recovery, and mental focus. This can be done with the scope of the program designed for the overall emphasis of building endurance, while readily increasing the development of all of the other areas.
To start, the structure of this circuit is rather simple. It is 2 versions with the first version being done early on in the week with the second at the end of the week. It involves the rotation of 5 resistance training exercises executed in continuous fashion with intervals on either a stationary cycle, rowing machine, or other type of aerobic cardiovascular device of your choice. The 5 resistance training exercises must all be free-weighted and multi-joint type exercises. The second version is structured exactly like the first, with a couple of exceptions. The first is that the 5 resistance training exercises are all dynamic in nature and should involve nothing but your own body-weight. Some good examples would be squat thrusts, squat jumps, and push-ups. Also the intervals of cardio in this circuit are to be done on nothing but the cycle. The rep count should be at 25 reps on the resistance training movements and the time on the cardio should include high intensity intervals of 3-5 minutes. Circuits can be repeated for as many rounds as you desire.
This is one circuit that will help you to develop some serious fitness to allow you to shatter your old time records on the cycle. It doesn't matter if you are a serious or recreational cyclist this program will enhance your abilities on the bike!