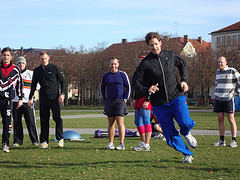 Circuit Training – The Superior Way to Develop Total Hard Body Construction!
In my personal opinion there are two definitions of circuit training. The first definition is pain, misery, body-shock, and total mental and physical exhaustion. The second definition that Webster probably uses is the method of physical conditioning in which an individual moves from one exercise station to another without resting. Every station is different and can consist of a variety of exercises designed to challenge the body in multiple ways.
If you are looking to step up the intensity of your workouts this is the way to go. Every circuit training environment can be structured in a variety of ways. A circuit can be as little as 2 or 3 exercises coupled together or 20 exercises linked at once. Stations can be set up to be resistance-oriented, running-oriented, or both. Either way you choose to set up your circuit program its not going to be easy if you have done it correctly. The idea is to run through all of the stations before allowing yourself a rest period. Obviously the length of this rest period will depend on either how big and intense the circuit is or by your level of fitness. The bottom line is that you will be able to gauge how in shape you are when you do first start and when you have progressed to doing it on a regular basis.
Don't waste time getting the results you have always wanted. This is the quickest way to HARD BODY CONSTRUCTION! Remember that intensity is the key to fitness success.