"Learn How To Truly Master Your Body To Get Strong, Ripped, And Athletic 4 Weeks At A Time!"
The Problems And The Failures…Trust Me I've Been There! 
Over The Past 15 Yeas I've Learned From These Problems And I've Formulated A Solution To Get Results! 
From The Coach Featured On…
The BRF Online Coaching Modules
Individual Program Purchases Are Below, Or You Can Get All 4 Here In A Bundle At %20 Off For Only $77.58
**Now A Limited Time Bonus: Now You'll Also Receive Instant Access To My Strategic Conditioning Practices Video Series Absolutely Free.**
Value $9.99 Now $0.00 Upon Purchase
*Instant Free Electronic Delivery/Shipping Upon Purchase*
Was 95.97
THIS PRODUCT IS NO LONGER AVAILABLE FOR PURCHASE AT THIS TIME
IF YOU ARRIVED HERE AND ARE INTERESTED IN TOP FITNESS PRODUCTS MAKE SURE TO CHECK OUT THE NEWEST LINE OF BRF PRODUCTS HERE
Are you continually failing at building lean muscle? Do you feel like your body movement is limited, or even poor? Perhaps you even have some joint pain? Do you want to feel and look strong? Are you tired of hitting plateaus? Are you frustrated with not getting the results you want? The answer to all of this is here. The Brandon Richey Fitness (BRF) online coaching platform is a comprehensive training strategy designed to help you to acquire your physical goals for most any general, or athletic specific endeavor. The Brandon Richey Fitness online training platform consists of 4 month long distinct progressive training programs. With all 4 programs that is a total of 48 workouts, or about 4 months of training!
The 4 programs consist of a linear progression of strength, fitness, and conditioning which scale up to a very high level of strength and overall performance.  The programs are offered in blocks of 12 workouts (month long programs) and focus initially on developing a basic foundation of strength and work up to a greater intensity in which a level of athletic conditioning focusing on speed, power, and agility is also later introduced.
These programs are designed to get you results and include complete interactive video instruction to clear up exercise selection and lifting technique. In addition to each workout including warm up, exercise selection, set to rep schemes, stretching, and manual therapy (myofascial release for muscle recovery) you will also receive a
nutrition plan,
a testing form to chart your results,
and a private invitation to a
secret Facebook discussion community group
to further clear up any questions regarding the training, the exercises involved, or any other related inquiries.
 Easy To Follow Programming…
Video Instruction…
Support And Community Engagement With Other Members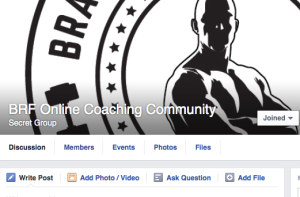 This discussion group will be private and closed off to everyone except other BRF training members. It is here that you can also engage me directly for any questions concerning your training. In addition to all of this support you will also receive a complete nutrition guide for FREE along with the BRF Online Coaching Testing Forms to document your progress from the beginning of the programs to the end using measurements in both athletic performance and strength!
If you are unsure as to which program that would best fit you then worry no longer. If you look below I will include the links to each page for each of the 4 separate programs. After clicking these links you will be directed to the page of that program and will be given a clear explanation as to what you can expect from that particular program. Please take some time to peruse all 4 programs to decide on which ones would best fit your description.
In the meantime check out what these folks are saying about the new BRF Online Coaching Program…
Ray Toulany Creator and Host of the Super Strength Show
I have a confession…
The first thought I had when I heard about Brandon's Total Strength & Conditioning Method was…Read the rest of this review along with all the others here
Rik Brown "Mr.Maceman " Featured As Facebook /Rik Brown Instagram @mr.maceman
The BRF Strength and conditioning method is far more than an exercise course,it's more like attending a University of human athletic performance! I mean,it is so very complete, it addresses strength…Read the rest of this review along with all the others here
Lee Taft: Performance Coach, Founder Of Lee Taft Athletic Consulting
"Over the past 26 years as a strength and conditioning coach and sports coach I have seen many programs come…Read the rest of this review along with all the others here
Victoria Debroux: Athlete, Female Amateur Thai Fighter, & NFC Female Fight Of The Year 2014! 
I have currently trained with Coach Brandon for about 3 years.The strength method module has been challenging…Read the rest of this review along with all the others here
  To clarify this further I have included specific attributes on each page of all the programs for you to read over and to clearly identify which program best fits your needs and your own personal situation! I've included the links to each program module here below, as well as an opportunity at the bottom of this page to purchase all 4 modules at once at a %20 discount!!!  
A Little About Your Coach And The Story Of This Program…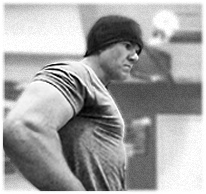 Brandon Richey,B.S.,CSCS
Owner Brandon Richey Fitness LLC
I started out in the fitness business the way many other trainers/coaches do… wanting to help and guide others to be at their best. I found early on in my career that although it was my intentions to help others…that wasn't so much the case in terms of some of the relationships I encountered in the industry. 
I had struggled and failed early on with a part of my business because I had gotten into a subleasing situation with not just one, but two different business owners for training space at the time that were not people of high integrity.
To make a long story short I ended up losing both facilities and was now stuck stressing out about how to earn a living. With no money, or running capital to seed the business I had to do something fast. 
The thing is that I knew I had a good program and started going on site to various parks, neighborhoods, and high schools in the metro-Atlanta area training various individuals and sports teams and proving the value of the program. I spent every waking minute I had honing my coaching skills, reading about various other coaching styles, and intensively learning about new and different training modalities such as kettlebells and how to optimize human movement. 
The thing is I started piecing together a comprehensive foundation for a training model that I learned from working with other organizations that specialized in athletic performance along with my own experiences from having gained additional work experience with the strength and conditioning staff of the UGA football program.
I was also building a resume with training and testing myself and many athletes over the years with people that wanted BOTH to look good at the beach and to perform well on the field of play.
I discovered something very interesting as I built on the training.  I noticed there wasn't a lot of middle ground with many folks that came to train with me. 
In other words, people either stuck with the training and committed like crazy, or they were here today and gone tomorrow faster than you could blink. When I first started noticing this I was nervous, but then I realized something incredible. I realized those that did keep coming back were looking and performing at very high levels. 
Once I started gaining some traction and making progress doing this in late 2003 I met a young competing Thai fighter who ended up becoming a very good friend and my Thai coach as well.
His name is Jeff Perry and at that time he asked me to map out a strength and conditioning program for him to defend his title belt at nationals being the #6 ranked Muay Thai fighter in the world at that time. 
The goals were simple. He wanted to be fast, explosive, lean, and strong. I pieced together a progressive 8 week program which stems from the very program that I'm including here for you today. In the end Jeff retained his title knocking out the #8 fighter in the world (at the time) by the end of the first round. Since then there has been no turning back!
I am big believer in quality, doing a job well, and being accessible when needed. This is the reason I've created the BRF Online Training Program and I'm very much looking forward to being your coach and helping you to be the best you can be. I will always give you 100%, and as long as you can do the same I promise you will always meet and even exceed your goals with this program.
You Have Questions…I Have The Answers!
I understand that you may have some objections, or at least some concerns. Perhaps the following details will help to clear all of that up.
Will the BRF Online Coaching Program work on my computer/device? Yes, the BRF Online Coaching Program (all 4 modules & included forms) will open on most any device.
 How many workouts are included in each training module? Each module is constructed based on a 3 day/week training plan. Each module contains 12 workouts which consists of about a solid month of training. With all 4 modules combined you are looking at 48 total workouts, or about 4 straight ball busting months of training! 
Can I get help with clarification of lifting techniques, exercises, etc.? Yes, you will be invited to join a secret Facebook online discussion group to interact with other community members and myself for any questions regarding the program. 
Is there a lot of equipment required for the BRF Online Coaching Program? This is an excellent question. Some basic equipment is required such as barbells, dumbbells, medicine balls, etc., but nothing more than the basics.  
You can absolutely get by with the minimum and use what you need for your primary strength lifts from either your local gym, or garage. Additionally I've included links as to where to purchase all additional equipment if necessary.
If you are on a tight budget no worries because in the discussion forum I can include some details as to how to implement very basic and cost effective substitutes for something you may be lacking! Even with very limited equipment you can still get it done!
Will I still get the nutrition guide and testing forms if I only purchase a single module rather than all 4 in the bundle?

Yes, you will still receive every document with each individual program purchase that you would get if you purchased all 4 training modules in the bundle.
Is the BRF Online Coaching Program for all age groups?

No, I would say that the BRF Online Coaching is for ages 18 and up. Although these programs are easy enough for a younger teenager to follow I would recommend an adult walk you through the program until you get the feel of it. Also I would encourage to read over the personas I've included with each Module to determine which program(s) would be the best fit for you. 
Do I need help with performing the tests to chart my progress? Yes and No. For example Module 1 is essentially a push up test. If you are honest and strict with your technique you can probably perform the pre and post test with this one by yourself. 
However as you get to Modules 2-4 you are going to be introduced to other tests that require time management and measuring certain drills for distance. Here you will probably want a training partner so that you can help each other out.
Is the BRF Online Coaching Program just for competing athletes? No, the BRF Online Coaching Program is just as much for those wanting optimal fitness as it is for those that want to compete in a sport. It will help you to get a lean ripped physique as much as it will help you to perform better within a sport.
After purchase how soon will I receive the product and everything associated with it? Upon purchase you will receive the product download to your email inbox instantly.
If I'm not happy with the BRF Online Coaching Program can I get a refund? Yes, if you try the BRF Online Coaching Program and are dissatisfied with the product after the first 30 days I will refund a 100% of your money…no questions asked. 
Module #1
Who is The BRF Basic Strength Method program for? This program is for those able bodied (relatively strong, but not as well conditioned) individuals that have been active in the past and have perhaps taken a hit to their fitness and athletic lifestyles, but are looking to correct that in a big way. This program is also for those younger athletes that have been working on building a solid baseline of strength
and are also looking to start building a solid foundation to get serious about competing!
Click Here
Module #2
  So who is The BRF Total Strength Method for? This Module is for that athlete or fitness junkie that has been easing into their training lately with a bit more intensity and drive and aren't quick to shy away from a challenge. This module would benefit those able bodied individuals that are serious about their strength and fitness gains and are genuinely looking for a plan to get them to a higher level of fitness and strength.
Click Here
Module #3
So who is The BRF Strength And Conditioning Method for? This module is for those individuals that have a competitive edge and are looking to truly ramp things up either for the sake of performance, or for getting a super lean physique. Former and current competing athletes along with serious fitness junkies would be a great fit for this training module.  
Click Here
Module #4
So who is The BRF Total Strength And Conditioning Method for? This is an advanced module and is for those candidates that want to truly invest the time and push themselves into a higher level of overall fitness and performance, period. Former and current athletes and serious fitness personnel will find great value in this program and what it can do for their physical prowess. It is designed to drastically enhance physical appearance and performance!  
Click Here
Of Course You Can Click On Each Module Above And Purchase Them Individually, But You Should Read Below First…
This Is For A Limited Time Only!
With All 4 Programs This Would Be A Hands On Coaching Value Of $4000
The Total Cost Of Purchasing All 4 Online Programs Individually Would Be $119.96
If You Purchase All 4 Together Here And Now…
 It's Only 95.97 Buy Now! 
Now At A Brand New Offer Of Only 77.58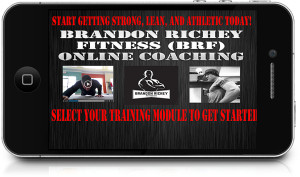 **Now A Limited Time Bonus: Now You'll Also Receive Instant Access To My Strategic Conditioning Practices Video Series Absolutely Free.**
Value $9.99 Now $0.00 Upon Purchase
*Instant Free Electronic Delivery/Shipping Upon Purchase*
You Will Receive The Complete Guide In Interactive PDF Format Which You'll Be Able To Open And Access On Any Device.
For Any Additional Questions Or Concerns Contact Me Here.
THIS PRODUCT IS NO LONGER AVAILABLE FOR PURCHASE AT THIS TIME
IF YOU ARRIVED HERE AND ARE INTERESTED IN TOP FITNESS PRODUCTS MAKE SURE TO CHECK OUT THE NEWEST LINE OF BRF PRODUCTS HERE